To safely get to those hard to reach places, you need scaffolding. You will require solutions that are well built and secure. We happen to be the foremost establishment providing and erecting scaffolding Sunderland has. With a competent team as well as years of experience, we can meet the needs of clients from all sorts of industries and sectors.
You might need the scaffolding for industrial and commercial applications, or something more on the domestic side. Whatever your needs, we will give you everything you require for some of the most affordable prices.
We help all kinds of clients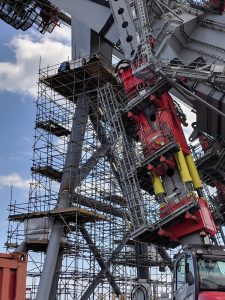 We began our work back in 2006 and sought out some of the most experienced professionals in the business to join our team. Many of them have been doing this longer than we have. As a result we have the skills to handle any project.
Over time, we have had the pleasure to assist a myriad of clients, including private customers. Each one was looking for scaffolding or temporary access points to help them, and we were happy to oblige.
To make ourselves flexible, we also made sure that clients had a plethora of options to choose from. Examples include system scaffolds, and tube and fitting ones. Now we are the number one place to find scaffolding Sunderland has to offer.
A comprehensive service
Something we have always been working towards is making the company stand out from the competition. We do this by offering comprehensive services to cater for any needs. At every stage, our team members will be there waiting to aid you. They could be delivering your scaffolding, constructing it, or testing it to check that it is secure and safe for use. Then, they will even dismantle the entire structure for you and remove it from the premises when the project is over.
There is no need to worry about designs either; our people shall find the most appropriate configuration for you. As a result, with our scaffolding you won't struggle to gain safe access to the important areas.
We keep everything safe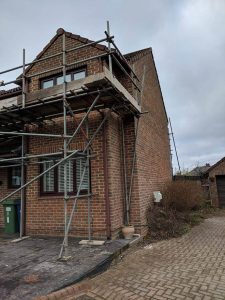 Another vital part of our business is health and safety. In fact, it is the most crucial of them all. Talk to any scaffolder and they will tell you that you cannot ignore stability and safety with scaffolding. Fortunately, we never cut any corners with this area.
Clients have peace of mind when working with us because safety is at the heart of everything we do. They know we are a careful and trustworthy company. We are also accredited and approved by the Contractors Health and Safety Assessment Scheme. If you have maintenance, building work, or repairs to do, our scaffolding will provide you with the safe access you require.
Speak to a scaffolder in Sunderland
Everyone with enquiries or questions is free to contact us when they like. You can also speak to us if you want to know more about the goods we can supply for your projects. We are always happy to talk to everyone about anything to do with the finest scaffolding Sunderland has to offer. Our team is here to discuss all the details surrounding your project as well, regardless of the scale. Make us your preferred choice and you can take advantage of free quotations and advice.
Our email address is enquiries@hsscaffoldingltd.co.uk. You can call us too using the numbers 07968 127815 and 07931 491172.