Some projects require the most reliable and safest scaffolding Northumberland has to give. If you have yet to find this, then you should speak to the team here at HS Scaffolding. We have numerous years of experience operating in this industry. In addition, we are professional at all times and support our clients.
First class assistance without the large price tags
You might be someone that needs to talk with a scaffolder for industrial or commercial purposes. Alternatively, your project could be domestic or private in nature. Whatever the case, you can find all the assistance you need right here. Even better, we don't make you pay absurd prices for it.
The people we've worked with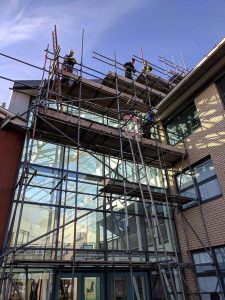 Even though we have been around since 2006, the people in our company have far more experience than that. Over the years, we have had the pleasure to work for a multitude of clients. This includes those in charge of construction companies, power stations, and oil refineries. As for the private clients, we have supplied temporary access points or scaffolding for domestic applications.
From system scaffolds to standard tube and fitting ones, there are various options for you to choose from. So, for the greatest scaffolding Northumberland has, come to us.
What separates us from the crowd
We stand out from others businesses specialising in scaffolding thanks to our prices and comprehensive service.
At every stage, our team members shall be there to provide you with help. Not only will they deliver all the components in quickly, but they will also erect the scaffolding for you. Before allowing anyone on it, they shall do some testing to ensure that everything is secure. Finally, after you finish using the structure, we will take it down and remove everything from the site.
Using their training, our team will conceive the best scaffolding configuration for you. As a result all users shall be able to get to where they need to be easily.
Health and safety
Everyone here devotes themselves to following the correct health and safety guidelines as well. This helps with clients because they can rest easy knowing that they are working with a diligent and responsible provider. Moreover, we are approved by the Contractors Health and Safety Assessment Scheme. This means we can supply you with tried and tested services regardless of where we are in the region.
Speak to a scaffolder in Northumberland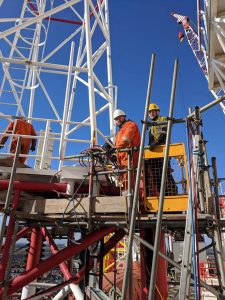 If you want to enquire about our scaffolding services or just want to ask us some general questions, you are welcome to get in touch. At the same time, we can let you know what we can provide for your projects. We are more than happy to talk about the work that goes on here and what your project involves. It doesn't matter how small or huge it is in scale; we can provide the scaffold you need. Free quotations are available too.
Make the top company working in scaffolding Northumberland has your first choice and call us today. The numbers are 07968 127815 and 07931 491172.