Scaffolding that is safe and reliable is something you will want on every project. In order to obtain this for a reasonable price, you should speak to us. We are the top establishment excelling in scaffolding Durham has. Not only do we have years of experience, we also have the most skilful individuals on the team.
Everyone here can attend to the demands of our clients, catering for all sorts of sectors. So, it doesn't matter whether you are a domestic, commercial, or industrial client. A scaffolder will work with you to look for the perfect scaffolding solution for your situation.
What we do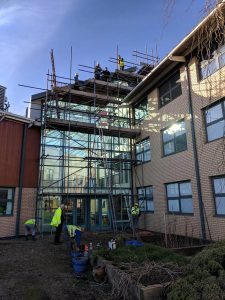 The service we offer is a comprehensive one, which is one of the main reasons why we stand out so much. Our team is always on hand to help you with your needs at every stage. Their duties include delivering scaffold at the time you specify, setting everything up, and testing to make certain it is all secure. Last but not least, they will dismantle the scaffolding for you once you finish with it.
Everyone here has extensive training and knows what they are doing. Each scaffolder is actually trained to the CITB industry standards or the equivalent. The design team shall aid you in coming up with the highest quality configuration so you can get to where you need to be easily.
We support each client
We have been in business since 2006, but some of our team members have been working in the field for even longer. Their valuable insight into the industry is part of the reason why we have become so successful.
It is our pleasure to work with a diverse array of clients. Some of them have been construction companies, oil refineries, and power station operators. Sometimes, we also have the chance to assist private customers who need scaffolding for domestic applications. We make sure there are plenty of options for each client, from the standard tube and fitting to system scaffolds.
Safety is important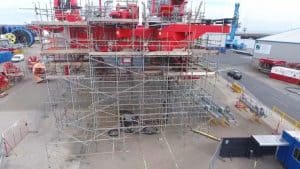 When someone comes to us for scaffolding, we ensure that stability and safety come before anything else. Health and safety is something we are completely invested in for all of the work performed here. This gives clients peace of mind as they know ours is an attentive and responsible business.
We are a fully accredited company too, one the Contractors Health and Safety Assessment Scheme approves of. Wherever you are in the region, we will give you the most reliable services. You will therefore receive the finest scaffolding Durham has.
Contact us to speak to a scaffolder in Durham
You can always rely on us to create an appropriate solution for your project. We are proud of the reputation we have built for outstanding customer service, reliability, and quality. Additionally, everyone here is eager to speak with clients so we can help you with all your issues. To find out more about us and why we are the best for scaffolding Durham has, all you need to do is get in touch.
You can send an email to us using the address enquiries@hsscaffoldingltd.co.uk. If you would prefer, you can call us at 07968 127815 or 07931 491172.